BILLET READINGS
(Messages from the so-called Dead to the Mortal living – known as Billet psychometry).
KMR BILLETS 400 GIVEN 1976 IN ONE PUBLIC MEETING!
A BILLET IS A MESSAGE TO THE WORLD OF SPIRIT ASKING FOR EVIDENCE OF PERSONALITY SURVIVAL BEYOND THE DEATH OF THE PHYSICAL BODY - UP TO OVER 400 OUSTANDING EVIDENTIAL MESSAGES WERE GIVEN.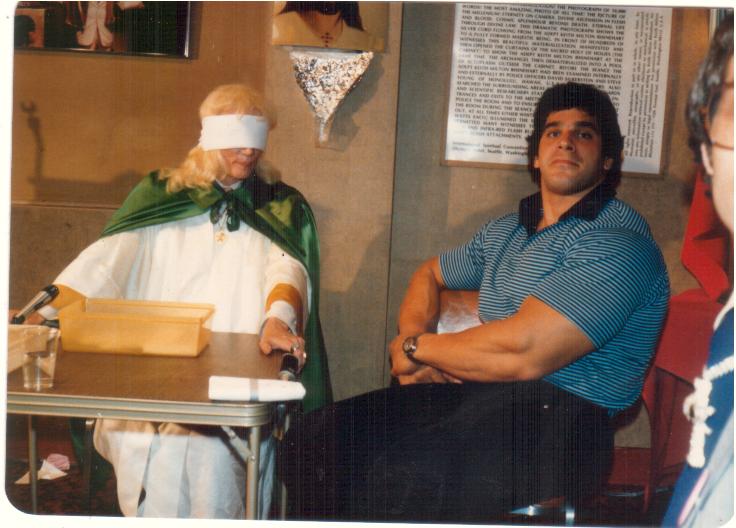 BILLETTS
Imagine you are one of several hundred sitting in rows in a large Room in a Hotel Mezzanine Floor, the Medium is seated on a chair in clear view on a raised podium, volunteers are given clear-plastic containers to pass along the Isles. Each in attendance is given a blank Billett card a white plain Card about five inches square.
The individual is instructed to write a message to someone in the World of Spirit in the hope of making a verifiable contact with a so-called DEAD loved one.
Any Language, any name of the person is Spirit, the Message does not have to be signed or any indication as to whom from.
The Ushers collect the Cards, take the Plastic Container and place in full view of all in front of the blind folded Medium.
We are told thru the Medium that a Spiritual Doctor & Scientific coordinator is surrounded by a throng of people in the World of Spirit who have attended on the other side hoping to give evidence of their survival to a loved one on Earth.
The blind folded Medium begins searching through the Billetts until selecting one, holds it up and gives verbally the message from the other side once the person in the Audience asked for is called to stand.
The Billett is then returned to the Physical person in the audience to verify that is the Billett they submitted.
In my case I simply said; "Give me Evidence" and did not sign it.
The affidavit included explains how when called out for a BRUCE to stand I did not move, another man stood and was told to sit then the coordinator became agitated and said; "If you come to a meeting like this you should at least know your first name."
I am Kim but was Baptised "Bruce Kimberley" - my long since passed Grandfather who raised me as a child during the War years then spoke at length – it was him. His name Bruce Charteris Adams who was a Senior in the Masonic Lodge in Australia.
The emotions ran high as time after time an audience member would be overcome with joy and wonder at the contacts and evidence being given one after the other.
Sworn by the Author.
THE SCOLE EXPERIMENT: DEFINITIVE EVIDENCE OF ... - tim coleman
www.timcolemanmedia.com/index.php/articles/life-after-death/74-scole-art
BOOK ON SCOLE EXPERIMENT BY GRANT AND JANE SOLOMAN. The Scole Experiment is widely regarded as one of the most successful paranormal ...
http://zerdinisworld.com/?p=204
If you wish to Study about the life of the world's most proven physical phenomena Adept of all time visit the above Web Site on the Internet.
Click Here: INTRODUCTION